On Alyssa and Anthony's wedding day, they exchanged their vows outdoors on the lawn at Turtel Creek Country Club. Nature provided a picturesque backdrop, and while the sky, was clear and bright, guests were given fans to keep themselves cool. After the ceremony, the celebration continued in the grand ballroom of the Turtle Creek Country Club. W filmed the portraits of the couple and the wedding party on the golf course during the golden hour that cast a warm, radiant glow.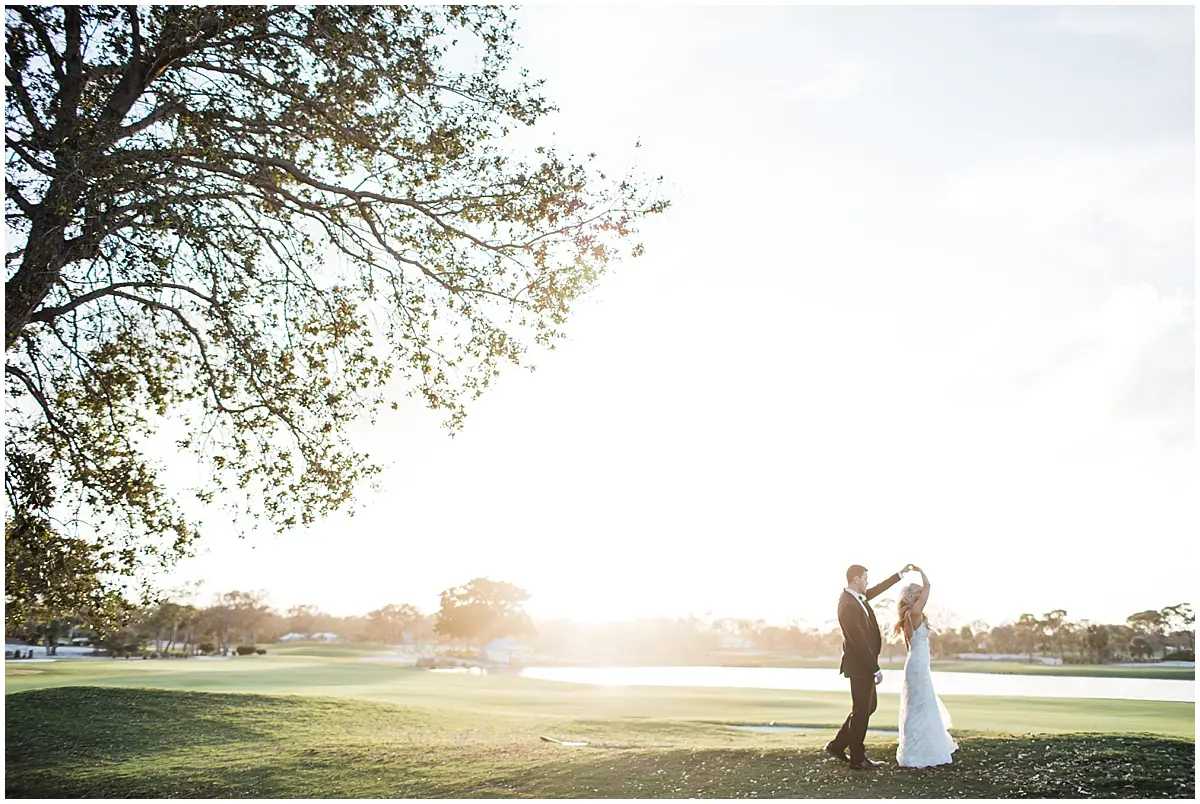 How to get married In Palm Beach Gardens
Obtain A Marriage License
To obtain a marriage license in Palm Beach County, Florida, couples should first pay a visit to the Clerk & Comptroller's office, ideally one located in any of the courthouses in Palm Beach County. Before you go, it's crucial to have all your required documents in hand. Both parties must present a valid photo ID, such as a driver's license or passport, and be at least 18 years old. After you've provided all the necessary information and paid the associated fees, there's no waiting period for Florida residents who've taken a sanctioned premarital preparation course. Otherwise, there's a three-day waiting period. Once you've got your license, remember it's valid for 60 days and can be used anywhere in the state of Florida, not just in Palm Beach County.
Reserve Your Ceremony Date & Location
Booking a wedding venue is of the first steps after getting engaged and one should think about what time of year you want your wedding to take place. The most popular months for weddings are November, February, March, April, and May. As you begin your search, keep in mind that venues can fill up quickly during these peak seasons. Therefore, having a range of possible dates or being flexible with your date selection can give you a better chance of securing your desired venue. Some couples opt for less popular dates or off-peak months to benefit from potential discounts and more availability. Additionally, certain dates, like holidays or historically significant days, might be particularly sought after, so it's crucial to book well in advance if you have a specific date in mind. In any case, make sure to communicate with your partner about what's most important to both of you, whether it's the venue itself, the date, or other factors, to ensure a memorable and meaningful celebration.
Consider Your Guests, Seating, & Decor
Considering your guests' comfort and experience is paramount when selecting a wedding venue. You should have an idea of how many guests you're expecting. When thinking about seating, always ensure there's ample space for all attendees to comfortably sit, move, dine, and dance. A cramped venue can make your celebration feel constricted, while a too-large space can make it feel sparse and less intimate. The decision between an indoor and outdoor ceremony is another significant consideration. Outdoor ceremonies, especially in scenic locales like Palm Beach Gardens, can offer a natural beauty that requires minimal added decor. They provide a picturesque backdrop and allow guests to revel in pleasant weather.
Photos on this page by Jessica DeYoung
Looking for the perfect place to celebrate? Check out our Wedding Venue Guide!