On their wedding day, the couple chose a harmonious location that blended their individual histories harmoniously, and The Pelican Club was a perfect blend. Originally from Seattle, Grant always had a fondness for the calmness and expansiveness of water, while Sam had cherished memories of trips to the shore in New Jersey. The magnificent views of e waterway and lighthouse had drawn them to this location. However, their grand entrance was the highlight of their day. They chose to arrive by boat. As they approached the venue, their friends and family waited eagerly at the dock, the waves gently lapping at its edges. Their entrance was as dramatic and romantic as they had imagined, with all their loved ones greeting them and the couple ready to kick off the party..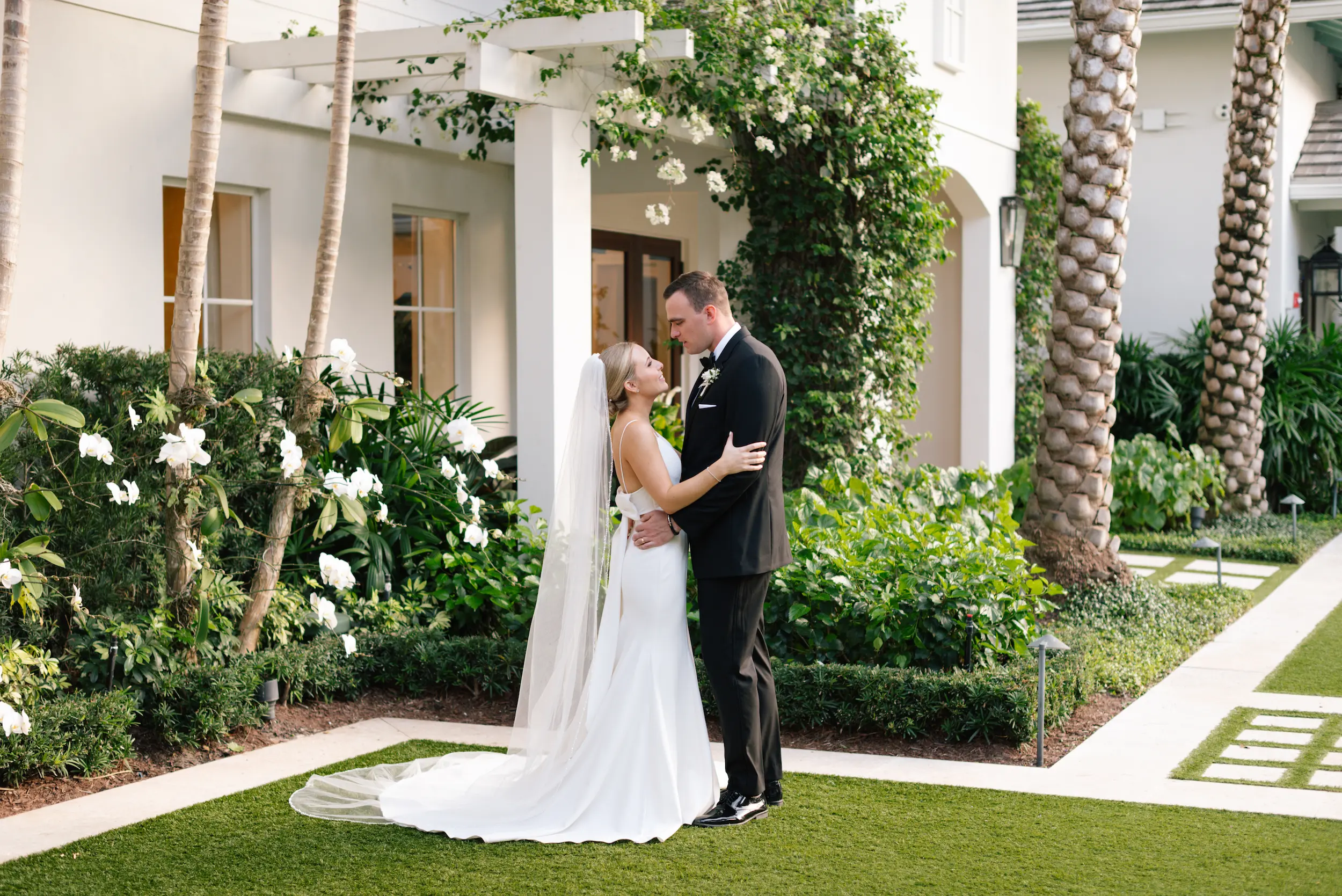 How to get married At Pelican Club
Choose the space
The ballroom boasts panoramic views of the Jupiter Inlet and the iconic Juipter Lighthouse, and is perfect for grand receptions. It's designed with a modern and sophistication with tropical details. The venue can accommodate up to 300 guests. For couples preferring an al fresco experience, the venue also featured lush outdoor spaces, providing a perfect blend of nature and elegance for that open-air charm. Whether on their well-manicured lawns or spacious patios, couples could enjoy a ceremony or reception under the stars, surrounded by the gentle rustling of palm trees and the ambient sounds of the nearby waterfront.
Choose Your Ceremony Date
The weather and time of year will dictate many of the choices you have. Jupiter sees a surge in weddings primarily between November and April when the climate is ideal, with temperatures hovering between the mid-60s and low 80s. Winter in Jupiter offers a haven of warmth, especially appealing to couples hailing from colder northern regions, complemented by the minimized risk of hurricanes. The spring months, with their enchanting weather and flourishing flora, are also a top choice, promising serene venues not overrun by crowds. On the other hand, the months from June to October, marked by increased humidity and higher temperatures, witness fewer nuptials. This time, aligning with the Atlantic hurricane season, might deter many, but some couples are drawn to potential cost benefits and more date options.
Best places for wedding party portraits
The venue features a panoramic view of the iconic Jupiter Lighthouse and waterway with a long dock that is a must for taking wedding portraits. The spacious patios has well-manicured lawns adorned with tropical foliage and palm trees that offer a lush, green setting. Often couples hire a boat out to go out on the water and capture golden hour photos with the couple. The venue's elegant interiors, from its grand ballroom with panoramic windows to its refined architectural details, are perfect for photos.

Looking for the perfect place to celebrate? Check out my Wedding Venue Guide!